Level Up Your Medical Assistants with UpSkill NIMAA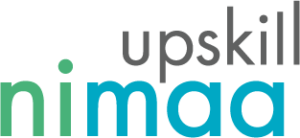 UpSkill NIMAA provides practicing Medical Assistants with next level-training and expertise to excel in high-performing primary care teams.
Participants learn at their own pace through an online platform that is user-friendly, secure and HIPAA Compliant. Participants can enroll in scheduled cohorts with a course facilitator or take the course on-demand for more flexibility.
Coursework includes quizzes, video lessons and written material developed by experts in the field.  Course facilitators are are subject matter experts who engage participants in critical thinking throughout the course.  Participants can also engage with peers who are simultaneously enrolled in the same course.
How Will Upskill NIMAA benefit my health center?
Your Medical Assistants will...
Enhance their ability to function as fully integrated members of high-performing care teams
Strengthen essential interpersonal skills in a clinical environment
Enhance their ability to work at the top of their MA certification
There are currently eight courses offered by UpSkill NIMAA that can be taken separately or in a recommended sequence. Participants earn a certificate of completion by demonstrating mastery of each course's key objectives.
The courses are:
UpSkill courses are not accredited by the Accrediting Bureau of Health Education Schools (ABHES).
Cohort-Style vs. Self-Paced Course Comparison
Course Type

Cohort-Style

Self-Paced

Register at any time; receive login within 24 business hours of registration

Learners who prefer to have a facilitator in the course
Groups of staff from the same clinic
Learners who are interested in collaboration

Individual participants
Learners who are interested in flexibility

One week per session + extra "flex" week at end.
One session is released per week, so participants can learn and apply content each week of the course

One week per session + extra "flex" week at end.
All sessions available from day one, so participants can complete the course at their own pace.

An assigned facilitator that is a subject matter expert who engages participants in critical thinking throughout the course
Peers who have registered for the course at the same time
A discussion forum for participants to interact and discuss course materials with peers and their facilitator
Downloadable course collateral
Dedicated in-house technical support

Includes a discussion forum to reflect on the content learned in each session
Downloadable course collateral
Dedicated in-house technical support
Frequently Asked Questions About UpSkill NIMAA