By Carolina Rose, NIMAA Distance Education Manager
Now that we have a vaccine and COVID-19 herd immunity is in sight, we can all start to get excited about returning to "normal" life. While the pandemic has created a great deal of disruption in our daily lives, it has also provided opportunities for change in the way we do things. Change in the way we work. Change in the way we gather to celebrate events. Change in the way we communicate with others. And change in the way we learn. Computers and smart devices have become the main means of person-to-person communication. As a result of COVID, many of us were forced to move activities that usually took place outside our homes into our personal living space. Our kitchens, living rooms, and bedrooms became our workstations and for many of us, also our classrooms.
But online learning is not new. Prior to the COVID-19 pandemic, many private and public colleges and universities had begun providing web-based alternatives for their courses and programs. Online course delivery has been around for decades, but until recently many institutions had been reluctant to make virtual options available to students for a variety of reasons, including: the belief that online courses are not as effective or comprehensive as in-person teaching and that learning in a virtual environment does not occur at comparable pace and level of complexity; the technical resources and expertise in educational methodologies required for online course design, development, implementation, and evaluation of these tools and methodologies; the sense that online delivery programs often lack one aspect of teaching and learning as compared to in-person delivery – the human touch.
So, are these assumptions about online learning accurate? Technology has advanced to the point where we can, in most instances, provide learning interventions that simulate almost any scenario or activity that can be undertaken in an in-person environment. There are various types of web-based tools, such as learning management systems and simulation software, offering a range of options and functionality. There are also online laboratories for every discipline imaginable, and with the use of telecommunication tools such as Zoom and Microsoft Teams, the gap that used to exist in online learning has been greatly diminished.
While most colleges and universities were forced to make a quick and unplanned transition to online delivery because of COVID, NIMAA's Medical Assistant training program was well prepared for such a shift in education delivery, having offered fully online courses years before the pandemic started. NIMAA is not the only post-secondary institution offering an online Medical Assistant program in the U.S., but there are several aspects of the program that make it one-of-a-kind.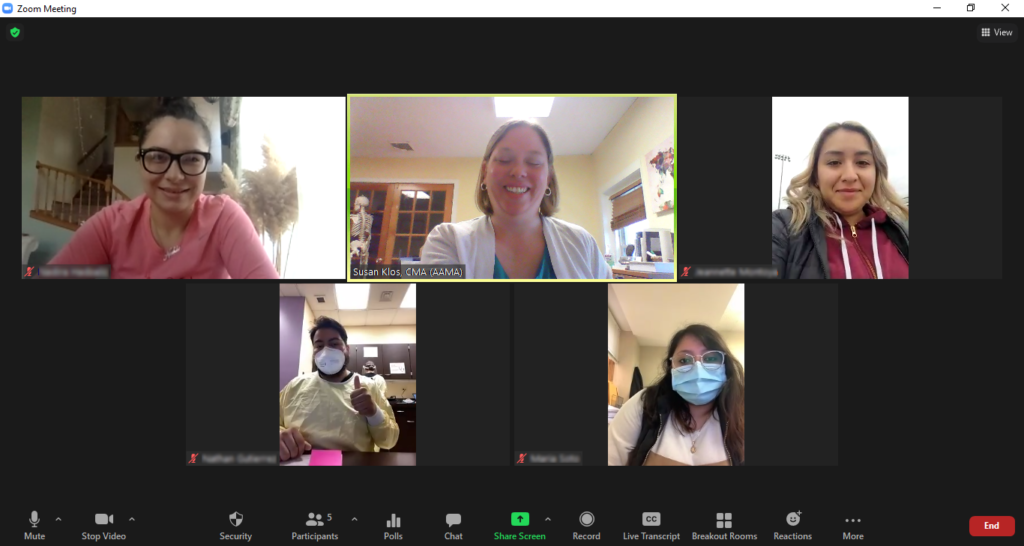 So, what makes NIMAA's Medical Assistant program so special? To begin with, the program was designed with the understanding that, while technology can facilitate the way we deliver learning interventions and can offer a myriad of tools to support content presentation, there is no substitute for human presence and human touch in the learning process. This idea is an important driver of NIMAA's high-touch online program.
Like all other Medical Assistant programs, NIMAA requires completion of an on-ground externship at a qualified medical facility. Unlike other programs, NIMAA's externship starts on the first week of classes. This means, while our students have the flexibility to learn in an asynchronous and self-paced manner, they get to practice what they learn in person with their cohorts, under the supervision of NIMAA staff and the medical facility. Starting their externship on the first week of classes allows students to develop and foster relationships with their instructor, peers, and externship staff, providing a sense of camaraderie as well as access to additional resources. Moreover, the NIMAA program requires students to participate in weekly huddles with their instructors and peers to address ongoing questions or concerns. Students also participate in weekly synchronous seminars with their instructor and peers from other states, where they can exchange ideas, ask questions, and work together on case studies that increase in complexity as the weeks progress.
NIMAA's faculty members are highly experienced in the delivery of online learning and are deeply committed to NIMAA's high-touch approach. In addition to the synchronous opportunities listed above, our instructors use web-based tools available through the learning management system to provide recorded audio-visual feedback to each student, further enhancing the feeling of human presence in the online environment. At NIMAA we understand that sometimes learning must take place during off hours and for this reason, a NIMAA instructor is always on-call during weekends to help students with questions or concerns.
This high-touch approach to online learning has resulted in high retention and student satisfaction rates. NIMAA students complete the program with a strong set of clinical and non-clinical skills that include specialized knowledge of team-based care as well as self-direction, self-regulation, and readiness to work in highly technical environments.
As more people become vaccinated and we approach herd immunity, many institutions are re-assessing their approach to teaching and evaluating the best way to move forward. NIMAA remains committed to continuous improvement of its high-touch online programming, and fully focused on its mission to provide educational opportunities that address critical workforce shortages in primary care.