This article was contributed by The Wright Center.
Scranton, Pa. – In one word, Melissa Lemus can sum up why she applied to the National Institute for Medical Assistant Advancement while trying to jump-start her career and land a job as a medical assistant.
"Flexibility," she says.
As a single mother of two, the Scranton resident needed a training program to propel her toward her goals while not breaking her budget or forcing her to quit her day job to take classes. The institute's program offered Lemus the best of everything: lower tuition and lots of freedom to set her own schedule.
"The classes are online," she says. "I was able to work during the day, then go home, take care of my kids, and do online coursework. It was a lot to juggle. But I knew I could do it."
Lemus, 28, became the first person to complete the institute's program through a training partnership with The Wright Center for Community Health. She graduated from the program in October 2022 and started a full-time job as a certified clinical medical assistant (MA) in the same building where she trained – The Wright Center for Community Health Scranton Practice.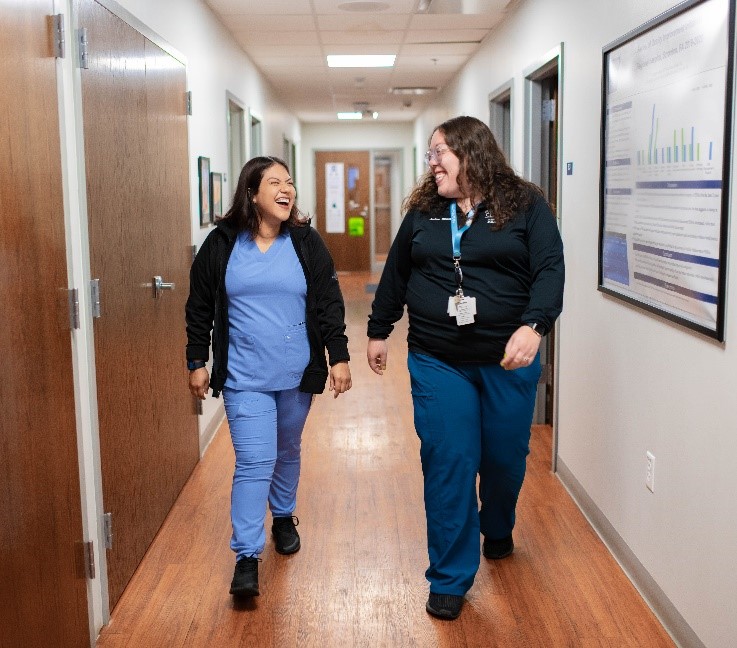 Medical assistant Melissa Lemus, left, is 'thriving' in her new job at The Wright Center for Community Health Scranton Practice, says Amber Bello, co-assistant manager of medical assistants. Bello oversees students while they get hands-on experience at The Wright Center as part of a training program offered by the Denver, Colorado-based National Institute for Medical Assistant Advancement. Photo/The Wright Center
The institute, based in Denver, Colorado, partners with health centers nationwide to offer job-training opportunities to people in their home communities. Its program is designed to allow participants to become medical assistants faster and at less cost than many other MA programs, typically preparing a student to sit for the credentialing exam in about eight months. The career-launching program now costs less than $7,500.
While enrolled, Lemus received weekly instruction via computer, plus hands-on experience during her externship hours at The Wright Center's primary care practice in Scranton's South Side, where she could immediately apply her newfound skills.
Today, the Scranton High School alumna is "thriving" in her new job role, according to her manager.
"Melissa is still a new employee, but she's already so seasoned," says Amber Bello, co-assistant manager of medical assistants at The Wright Center. "She was able to live the MA life while learning the life."
Bello serves as a site facilitator for the institute, which is commonly referred to by its initials, NIMAA.
"NIMAA is great," she says. "All of their instructors have been awesome in communicating with me. I am able to reach out to them with any questions or concerns."
So far, Bello, 28, has guided two people through the externship portion of the NIMAA program at The Wright Center, and two more are expected to finish in October 2023. She quickly became a fan of the institute and its training method, so she joined its advisory board.
MAs 'vital' to health care team
Medical assistants play a central role in today's health centers, where care is typically delivered by a team. Lemus is one of about a dozen MAs who work at the Scranton Practice, greeting and ushering patients to exam rooms and performing essential tasks that support physicians and other providers while promoting patient wellness.
The duties go far beyond measuring patients' vital signs. Lemus and her fellow MAs at The Wright Center sometimes draw blood samples, perform annual screenings, vaccinate children, educate individuals on topics such as diabetes management, and prepare patients to be seen by a doctor or other clinician.
"I feel like we are vital to the team," says Lemus. "We are the first ones to see the patient. We're the first ones to get a sense of how they're feeling. And, sometimes, they really open up to you."
Lemus, who speaks both English and Spanish, feels a sense of satisfaction each time she successfully connects a patient to the right treatment or service or simply offers comfort and understanding with her translation skills.
"There are a lot of moms who come to our clinic and who don't speak English," she explains. "They might not have taken their kids to a primary care provider in a long time because of a language barrier in scheduling an appointment and things like that. So, when they come in and are able to get the help they need, it's good.
"You feel like you're really doing something – something positive," she says.
In early 2022, Lemus was determined to become a medical assistant and would have been willing to deplete her emergency savings to participate in the NIMAA program, she says. Instead, she was thrilled to learn she was eligible for financial support that defrayed much of the cost.
Formerly employed as a caregiver in the area, Lemus considers her MA certification to be a major step toward her ultimate career goal of becoming a registered nurse – something she's been thinking about since middle school.
Finding her niche in a new country
Lemus, a native of Honduras, left Central America when she was about 8 years old. Her maternal grandmother was a midwife there who favored natural approaches and was said to possess a rich knowledge of the healing properties of herbs and other plants.
Aside from her grandmother, Lemus had no immediate family members working in health care to serve as role models. She got a bumpy start in U.S. schools because she initially spoke little English. After only a few years, however, she became fluent and began to form ideas about her life after high school.
"When I was in sixth grade, our science teacher gave us an assignment to write about what we wanted to be in the future," she recalls. "We had to do some research. I always found myself looking at the nursing careers."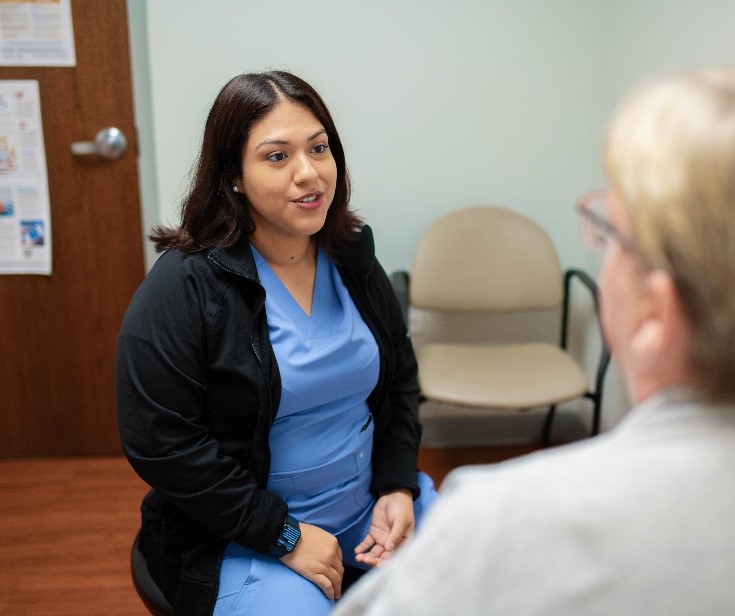 For medical assistants like Melissa Lemus, 28, the job entails far more than taking a patient's vital signs. She and her peers at The Wright Center for Community Health sometimes draw blood samples, perform annual screenings, vaccinate children, educate individuals on topics such as diabetes management and perform other essential tasks to promote wellness. Photo/The Wright Center
After high school, she considered enrolling in college. Then motherhood became her priority. Today, she is the parent of an 8-year-old daughter and a 3-year-old son. To support her young family, Lemus previously trained as a certified nursing assistant and took a series of caregiving jobs, including a stint at an Alzheimer's and dementia care facility. The work was difficult at times, but the experience taught Lemus she was indeed meant to be in the health care field.
The NIMAA program had a similar impact on her. After finishing the program, Lemus took an MA credentialing exam on a Friday morning at a testing site in Lackawanna County. "I had to wait until the following week to get the results," she recalls. "I was nervous the whole time."
She didn't want to disappoint herself, much less her Wright Center manager or her own family members, some of whom had helped by providing child care. By Monday, Lemus was checking her cellphone every five to 10 minutes to see if her exam results had been released.
Finally, just as she got her kids in the car to make a short trip, the news arrived: She had passed.
"I was in shock," she says. "I told my family, 'I can't drive like this. I need to take at least 10 minutes.'"
Looking back on the journey that led her to The Wright Center, Lemus knows she made the right choice by picking NIMAA and getting her MA certification.
"It was a big deal," she says. "For me, it was another confirmation that I'm on the right path."
The Wright Center's mission is to improve the health and welfare of the communities we serve through inclusive and responsive health services and the sustainable renewal of an inspired, competent workforce that is privileged to serve. This mission is delivered through a Graduate Medical Education Safety-Net Consortium model that engages two complementary entities: The Wright Center for Graduate Medical Education (TWCGME), The Wright Center for Community Health (TWCCH), a Federally Qualified Health Center Look-Alike, and four partnering national Federally Qualified Health Centers. The shared passionate purpose of these organizations is to demonstrate an "Achievable by All" Graduate Medical Education Safety-Net Consortium model that co-creates transformational health care teams of leaders who empower people, families and communities to own and optimize their health, as well as their health care delivery and workforce development systems. Our niche is delivering world-class, innovative and responsive primary health services in the context of community-centric, incumbent and future workforce development and renewal.
TWCCH is a Federally Qualified Health Center Look-Alike with a growing network of community health centers throughout Lackawanna, Luzerne, and Wayne counties that provide safety-net, nondiscriminatory, comprehensive primary and preventive health services, including medical, dental, mental health, addiction and recovery, and Ryan White HIV services to medically underserved populations regardless of a patient's ability to pay.
TWCGME is the nation's largest HRSA-funded Teaching Health Center Graduate Medical Education Safety Net Consortium that is dedicated to training compassionate, highly skilled physicians in community-immersed health centers and clinical learning networks collectively striving to address our nation's primary care physician shortage, misdistribution and related health and health care access disparities.
The Wright Center for Patient and Community Engagement (TWCPCE) is a nonprofit that complements TWCCH and TWCGME's mission through patient and community engagement in the delivery, enhancement and transformation of primary health care services; interprofessional workforce development; and public health improvement through education, advocacy and responsive address of the socioeconomic determinants of health that disproportionately affect underserved and rural communities. TWCPCE accomplishes its mission by providing project-based programming and organizing volunteer engagement for educational and outreach initiatives that include health fairs, blood drives, distribution of healthy nonperishable food, fresh produce, winter coats and clothing, and programs that address transportation, social isolation and more.
---
For more information about The Wright Center, please visit TheWrightCenter.org, and engage with their social media on Facebook, Instagram, Twitter and LinkedIn.